Cybex 625AT Total Body Arc Trainer 

625AT Total Body Arc Trainer COMMERCIAL WORKHORSE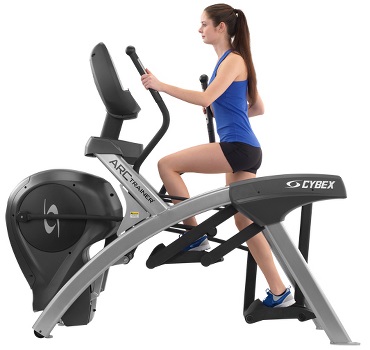 Arc Trainers
The 625AT Arc Trainers were created for users and environments that value great fitness and workouts over frills. Both our total body and lower body machines offer a complete selection of weight loss programs, strength, and cardio workout options on a clean, simple display. Our intuitive, research proven fitness equipment allow you to meet the training needs of beginners and advanced athletes alike with a single cross trainer machine
The versatile Cybex 625AT is a top choice for commercial settings, light commercial settings and homes with bigger budgets. Ready to withstand heavy traffic, it can help virtually any trainee enjoy results quickly. This trainer has great basics and can be upgraded with high-tech features for extra luxury.
The 625AT is a three-in-one fitness machine. It can be used as a glider, strider or climber and takes up little space for a full-body trainer. In any mode it delivers rapid results by combining speedy calorie burn, impressive muscle sculpting and a low-impact design that promotes endurance. Heart rate control is included on its list of diverse preset programs.
The Cybex 625AT is a total body arc trainer designed for use in clubs and home gyms. This elite alternative to elliptical trainers outperforms the competition by offering faster calorie burn and a lower-impact ride. It can challenge any skill level, adapts to the user's weight, and is built for years of trouble-free use.
Compared with an elliptical trainer, a Cybex Arc Trainer can burn about 16% more calories. Its arc motion (instead of an elliptical motion) especially works the glutes and hamstrings. For added calorie burn and upper-body toning the 625AT also has moving arm bars. These can be up to 80% more effective than the upper-body trainers on most elliptical machines.
The 625AT has a wide range of resistance levels and 21 incline levels. At the higher inclines the machine is most akin to a climber, and at lower levels it's a glider. Cybex describes its three exercise zones as Glide, Stride and Climb.
The console has convenience features including a magazine rack, a water bottle holder and two utility trays. Its multilingual computer has the following workout modes: Quick Start, Manual, three Weight Loss, three Cardio, two Strength and Heart Rate Control. Most programs have 10 levels and automatically adjust the Arc Trainer's incline and resistance.
Feedback include time, distance, calories, calories per hour, METs, Watts, strides per minute, incline, resistance and heart rate. Heart rate range is also indicated with a multi-colored system.
 

 Monitor